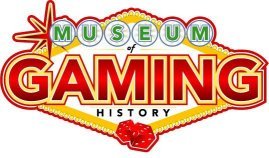 Museum Fund Chip II Numbers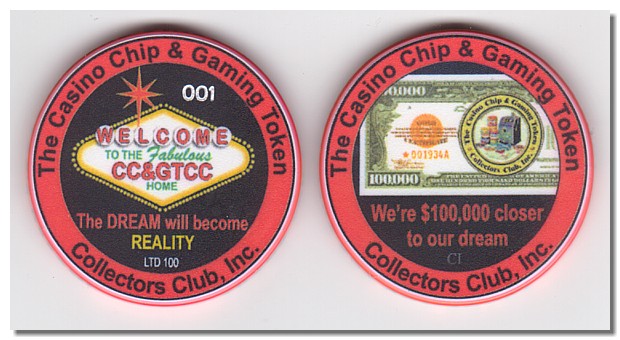 The chips were donated by Andy Hughes and only 100 chips were made. These are oversized (44MM) chips, with engraved numbers and edge printing. The edge printing says...
Thank you for supporting the CC&GTCC's dream!
When you reserve a chip number, I will list your name in gray. Once The Casino Chip & Gaming Token Collectors Club, Inc. has received your check, I will then mail out your chip and change your name to red. Your reserved number will be held for two weeks. If your payment is not received in that time, I will release your number.
There is also a limit of ONE CHIP PER PERSON so that as many collectors as possible can obtain a chip. The address to mail out a check for $100 or more is below.
Please make your check out to: CC&GTCC Museum Fund
John Zoesch
Treasurer CC&GTCC
533 Hunting Hills
Mt. Juliet, TN 37122

Casino Chip & Gaming Token Collectors Club

Jim Kruse

Archie Black

Gene Trimble

Debby Meister

Wayne Thompson

Mike Skelton

Skip Harouff

Julie Brown

John Schleis

Stu Lovett

Jay Sands

Steve Palumbo

Barry Hauptman

Jason Westlake

Al Whiting

Sunday Silverman

Tyrus Mulkey

Mike Heron

Travis Lewin

Irwin Gross

Jim Follis

Jerry Birl

Andy Hughes

Neal Silverman

Jim Perlowski

Mark Rollo

Jim Sarra

Brian Wagner

Greg Susong

Paul Liscio

Mike Quinlivan

Kevin Bickley

David Spragg

Russell Wong

Fred Bergman

Claude Argo

Brent Jensen

Nate Pincus

Mike Gersie

Ann Gersie

Jay Kalman

Kent Hedberg

Casino Chip & Gaming Token Collectors Club