Jolly Trolley

By Jim Perlowski (April 17th, 2003)

Many years ago, where the Jolly Trolley stood use to be a butcher shop. It sold fine cuts of meat and was one of the first butcher shops in town.
When Schulman's Meats, The Brothers Markets, Larry's Meats, etc opened the butcher shop could no longer compete with them. The Jolly Trolley was built on the site of the old butcher shop. Instead of tearing out the meat cooler from the old butcher shop the Jolly Trolley owners decided to utilize it within their casino promotions.
I can remember going into the Trolley and looking to my left, before you entered, you could see the cooler with several steak loins hanging in public view. The front part of the cooler was replaced with glass giving it double visibility to anyone who walked into the casino.
The Jolly Trolley offered one of the best "lost leader" steak dinners in town. Steak, especially filet was sold by the ounce. You could order a 3 ounce filet or a two pounder, whatever you wanted. The porterhouse was also excellent.
Many of my college friends who came to town enjoyed gambling at the Trolley. You could shoot crap or play blackjack while watching the "naked" lady dance upon the elevated stage to 60's rock and roll music. Back in those days no one dared place a hand or say anything out of the way to the dancer for fear of having their legs broken.
The Trolley catered to a young crowd but it seemed like the older generation took advantage of the steak dinners. If one felt like playing poker you could go next door to Honest John's for their standard 2-4 Texas hold'em game. If you notice from the picture below Honest John's is located to the left of the Trolley. Later it moved to the other side of the shopping center closer to Las Vegas Blvd. Hence, the difficulty with the correct address. Both addresses are correct!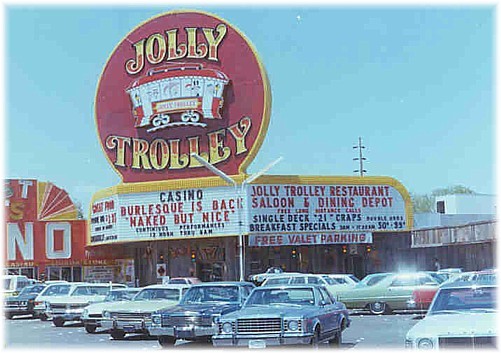 The Trolley sign use to have a red bulb right above the first "L" in Jolly. Whenever someone hit a slot jackpot inside the red bulb would flash and bells would ring. It was very irritating if you were eating inside but no one seemed to care because the price was right for their steak dinner.
The Jolly Trolley use to run full back page ads in the Valley Times newspaper. I enjoyed that newspaper because it was filled with all sorts of special offers and coupons good every where in town, the strip, downtown or at places like Phillip's Supper Club.
There will never be another "joint" like the Trolley. Let's be honest, there will never be another Las Vegas like it use to be!