Nevada Obsolete Chips

Listed below are Obsolete Nevada chips.
The price & condition of each chip is in red.

Domestic
postage is included on ALL orders



Direct Fit AirTite Chip Holders are now available from Nevada Casino Chips at $1 each!

Click on any highlighted text below to view a scan of that chip.
To return to this page use your browser's back button.

The sign indicates a chip added during the current month.

I use the Official

Casino Chip & Gaming Token Collectors Club

grade & condition descriptions below.
OFFICIAL

Casino Chip & Gaming Token Collectors Club

GRADE & CONDITION DESCRIPTIONS

I. GRADING DESCRIPTIONS or STANDARDS are a result of natural use of chips and tokens. The following five grades have been adopted and endorsed by The Casino Chip & Gaming Token Collectors Club.

NEW (N)

Never used in games. Square and round edge chips will be as from the manufacturer with absolutely no wear, no dings or nicks. No scratches on surface of chip or inlay.

SLIGHTLY USED (SU)

Only slight signs of use, edge still crisp but ever so slightly dulled with very little wear. Cross hatching may show slight wear near edge. Few or no edge nicks; still retains luster in mold design. Bold hot-stamp; inlays excellent.

AVERAGE (A)

Typical chip found in play after months/years of use. Slightly rounded edges. Will have minor defects such as small nicks on edges. Inlays are beginning to show even wear and about half of the cross hatching has worn from the body surface. Hot-stamps have dulled, beginning to show even wear and may be missing a small amount of foil.

WELL USED (WU)

Moderate and uniform wear of edge, surface and hot stamp. Noticeable edge nicks and/or surface scratches. No luster in mold design. Cross hatching is nearly worn off. Hot-stamp is still readable but much of the foil is missing.

POOR (P)

Edges that were formerly sharp and square, are now well worn like bicycle tires. Original hot-stamp foil is mostly missing with only the recesses visible (may have to hold towards a light) Moderate to large chips (nicks). Surface cross hatching barely visible (if at all) Severe scratches to inlay or chip surface. Severe color fading. Partial wear up to half of CHIPCO design from the edge to the center of the chip. (Damage, such as cracks, breaks, missing inlay or other chip structure, do not apply to this category)

II. CONDITION DESCRIPTIONS or STANDARDS are unnatural changes in chips as a result of other causes. Specimens in this "Condition" category may be graded in any of the five "Grading Descriptions." A cancelled, damaged or defective chip can be graded in any category from "NEW" to "POOR." However, a dirty, cracked or faded chip cannot be graded as NEW, even if it has not been played in a casino. It is not in the original grade as when it was made. The "Condition" category consists of the following terms that should be used as qualifiers to further accurately describe the five grades: (Examples: New/Clipped; Average/Warped)
1. CANCELED or MODIFIED

Drilled

Notched

Overstamped

Clipped

2. DAMAGE

Severe nicks or chunks

Loose or missing inlay

Cracked

Broken

Warped

Permanent stain

Severe fading

Cigarette burn(s), fire damage

Over-cleaning

Severe scratching or gouging

Shaved edge (example: to fit in a bezel)

Water damage

Burial damage

3. MANUFACTURER DEFECTS

Inlay or die strike off-center (slight, moderate, extreme)

Some of the script or photo is missing from the inlay

Some of the hot-stamp is missing

Manufacturer modification (example: one side of chip includes manufacturer's advertising information, even though the other side uses the actual casino chip design)

Ivory chips only - nerve holes (small, moderate, extreme, as a "see through")

4. MANUFACTURER ERRORS

Incorrect inlay or graphic (example: Inlay or graphic is supposed to be different on each side of chip, but it is the same)

Wrong mold

Double-strike of hot-stamp

Mistake in color or number of edge inserts

5. CLEANLINESS

This may not be a permanent condition. To clean or not to clean is the choice of the owner. While cleaning chips is a commonly accepted practice for aesthetic or hygienic purposes, it does not improve the grade but may damage the chip and diminish its value and grade. On the other side, non-cleaning should have no effect on the grade unless the specimen is so dirty that grading is not possible. In a situation involving a permanent stain that cannot be easily removed, the chip will fall into the "Damaged" category.
The Chip Rack number & condition of the chip are next to the casino name.
For more information on

The Chip Rack

click on the book below!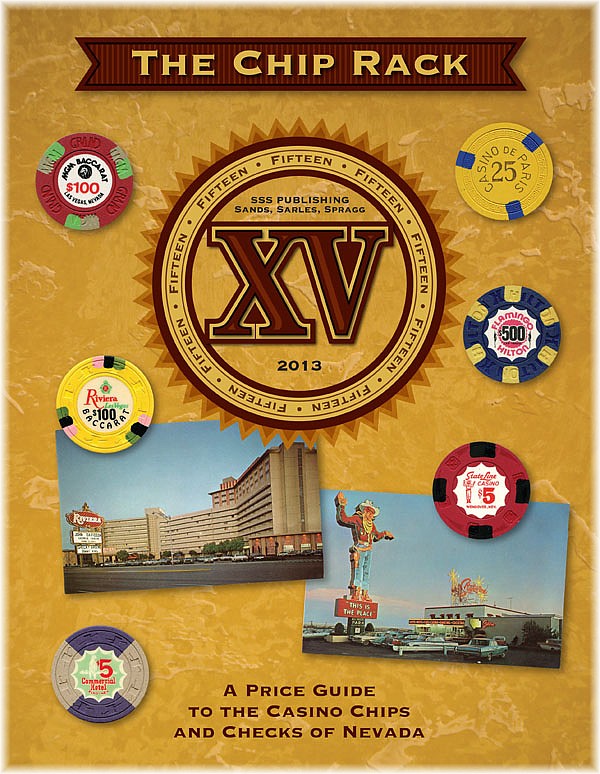 Fortune Club (N9735 SU) - .25 H.C.E. $55
Four Queens (N1175 SU & N1621 SU) - TWO $1 H&C $12
(This is a two chip "Set" with bold print on one chip & fine print on the other)
Gold Strike (Jean) (N1704 N) - $1 H&C $7
Harvey's (Lake Tahoe) (N5150 A) - $2 Bicentennial House $15
Horseshoe Club (N1773 SU) - .25 H&C (Brown) $4
Las Vegas Club (N1845 A) - .25 H&C $50
(A small chip on one side at 1 o'clock & a small rust colored stain at 7 o'clock)
Las Vegas Hilton (N1154 N) - $1 B&G $6
Las Vegas Hilton (N1155 N) - $5 B&G $9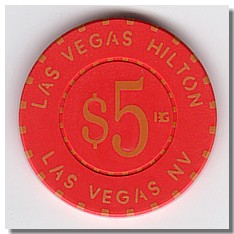 Marty's Carousel (V2242 N) - $1 Match Play Nevada $80
Marty's Carousel (V3831 N) - $5 Match Play Nevada $80
Nevada Landing (Jean) (N3013 N) - .50 H&C $4
Nevada Landing (Jean) (N1960 N) - $1 H&C $7
Pot O Gold (N8972 A) - $5 H&C $10
Rancho Mesquite (N8992 A) - $5 H&C $10
Riverside Casino (Laughlin) (V5370 N) - .25 H&C $6
San Remo (N1784 N) - $1 H&C $3
Speakeasy Casino (Reno) (V5618 N) - $5 H&C $18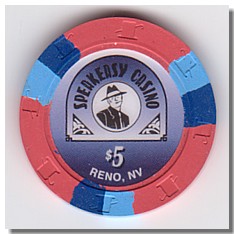 The Regent (V6731 N) - $5 Chipco $10
The Resort at Summerlin (V5347 N) - $1 BJ $5
Westward Ho (N2307 N) - .50 H&C $4
Westward Ho (N2306 N) - $1 H&C $7