Nevada No Cash Value Chips

Listed below are Nevada No Cash Value chips.
The price & condition of each chip is in red.
Domestic postage is included on ALL orders


Direct Fit AirTite Chip Holders are now available from Nevada Casino Chips at $1 each!

Click on any highlighted text below to view a scan of that chip.
To return to this page use your browser's back button.
I use the Official Casino Chip & Gaming Token Collectors Club grade & condition descriptions below.
OFFICIAL

Casino Chip & Gaming Token Collectors Club

GRADE & CONDITION DESCRIPTIONS

I. GRADING DESCRIPTIONS or STANDARDS are a result of natural use of chips and tokens. The following five grades have been adopted and endorsed by The Casino Chip & Gaming Token Collectors Club.

NEW (N)

Never used in games. Square and round edge chips will be as from the manufacturer with absolutely no wear, no dings or nicks. No scratches on surface of chip or inlay.

SLIGHTLY USED (SU)

Only slight signs of use, edge still crisp but ever so slightly dulled with very little wear. Cross hatching may show slight wear near edge. Few or no edge nicks; still retains luster in mold design. Bold hot-stamp; inlays excellent.

AVERAGE (A)

Typical chip found in play after months/years of use. Slightly rounded edges. Will have minor defects such as small nicks on edges. Inlays are beginning to show even wear and about half of the cross hatching has worn from the body surface. Hot-stamps have dulled, beginning to show even wear and may be missing a small amount of foil.

WELL USED (WU)

Moderate and uniform wear of edge, surface and hot stamp. Noticeable edge nicks and/or surface scratches. No luster in mold design. Cross hatching is nearly worn off. Hot-stamp is still readable but much of the foil is missing.

POOR (P)

Edges that were formerly sharp and square, are now well worn like bicycle tires. Original hot-stamp foil is mostly missing with only the recesses visible (may have to hold towards a light) Moderate to large chips (nicks). Surface cross hatching barely visible (if at all) Severe scratches to inlay or chip surface. Severe color fading. Partial wear up to half of CHIPCO design from the edge to the center of the chip. (Damage, such as cracks, breaks, missing inlay or other chip structure, do not apply to this category)

The sign indicates a chip added during the current month.

Circus Circus - No Cash Value Win Cards "1" White (SU) $3
Hard Rock Pink Taco (2002) (N) $45
(The yellow chip below was an early bird chip for those who registered early and is NOT included)
Monte Carlo (Reno) - (N2922 N) - No Cash Value "1" $6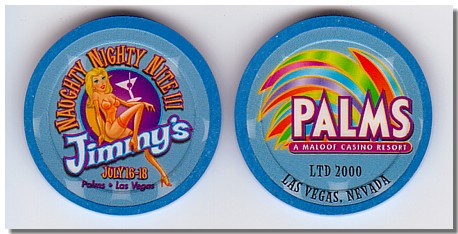 Palms - Playboy Club Roulettes (N) (Seven Chip Set With AirTites) $50